Major expansion for Odessa in Ukraine
UKRAINE - Ukrainian integration Odessa Chicks LLC has contracted leading Dutch supplier Pas Reform to install SmartSet™ setters, SmartHatch™ hatchers, and a full range of hatchery automation and climate control systems.
The new hatchery is central to an ambitious expansion programme that will target the production of 12 million day old chicks per annum initially, with further expansion projecting 40 million d.o.c. by 2010.

Odessa Chicks is a vertically integrated broiler operation. Established in 2000 and with 45 employees, the company is located in the Kominternovo district, Odessa Oblast – in the heart of Ukraine's grain region, a factor that guarantees the most competitive grain feed ingredient prices.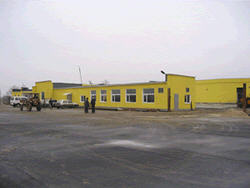 On a site totalling 28 hectares, Odessa runs a fully integrated poultry complex, including a hatchery, feed mill, five poultry farms with a total of 100 poultry houses, and a processing plant. This, explains Odessa's managing director, Mr. Nikiforov Stanislav Antoljevich, gives Odessa total control across all operations, and an assurance of the highest quality products.
"We have been meticulous in electing a supplier for this new hatchery project," he says, adding, "We were keen to work with a leading partner in the field of incubation technology. Having evaluated various offers, we found that Pas Reform was best placed to deliver the benefits of the most current incubation technology, combined with a strong commitment to the Ukrainian market."
Pas Reform Sales Manager Michaël Kampschöer is delighted with Odessa Chicks' decision: "With long-standing experience and 82 per cent marketshare here, Pas Reform offers unrivalled commitment to the Ukrainian poultry market," he says. "This, combined with our advanced hatchery technologies mean we are well placed to identify substantial cost reductions for Odessa, as well as high levels of practical, logistical and technical support – which will translate into greater efficiencies, to ultimately deliver improved chick uniformity and post-hatch performance."
Odessa Chicks' main buyers are supermarkets, wholesalers and other retailers, about 10 per cent of whom are from the Russian Federation, Tran Caucasian countries and other former Soviet Union countries. Total capacity of the Ukrainian poultry meat market is estimated at over 450 thousand tons, primarily in chicken meat. Today, 65 to 70 per cent of total volume is produced in Ukraine. Imports continue to decline as a result of increased domestic broiler meat production.
ThePoultrySite News Desk