Renewed bird flu threat spurs vigilance of poultry business
VIET NAM - With HCM City facing a high risk of bird flu recurrence, the administration instructed local authorities on Monday to step up surveillance to prevent illegal poultry farming, slaughter, and trade.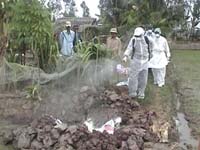 Workers in the southern province of Bac Lieu spray chemicals to disinfect a poultry farm, one of two more farms discovered with bird flu in the province in the last two days.
The disease recently resurfaced in Ca Mau and Bac Lieu provinces in the Mekong Delta after a one-year gap. In its orders, the city told commune and ward officials to closely co-ordinate with the local Steering Committee for Avian Flu Control and Prevention to keep an eye on poultry farms.

It told them to harshly punish people illegally breeding, slaughtering, or transporting poultry within the city.

The Animal Health Department is set to step up inspections at main arrival points from the Mekong Delta for infected animals, and has ordered veterinarians, market managers, and traffic police to be on 24-hour lookout for infected birds.

The city has also called for carrying out other measures like disinfection of poultry farms, vehicles transporting birds, and slaughter and processing facilities.

It has ordered regular inspections of egg and poultry shops and for closing them down if they fail to meet food sanitation and safety standards.

Market management officials have been told to watch poultry products transported by water, check sanitation in markets, confiscate and cull infected animals, and seize uncertified poultry products.

The Department of Health has been asked to closely monitor birds to ensure the supply of clean, safe poultry products.

Animal health officials have been told to prepare for full vaccinations of poultry and for spraying disinfectants in poultry farms in the city to check outbreak of the disease.

Provincial authorities said the recent bird flu outbreaks in Ca Mau and Bac Lieu were under control, but the risk of new outbreaks was still high.

Following the outbreaks earlier this month, the two provinces destroyed more than 18,000 infected birds, and have seen no new outbreaks since.


ThePoultrySite News Desk