Vietnam could lift ban on waterfowl farming
HO CHI MINH CITY - Prime Minister Nguyen Tan Dung admitted it was impossible to impose a nationwide ban on raising these birds for long, especially in the Mekong Delta region where the majority of farmers' earnings was from poultry.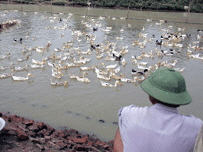 Farmers in Vietnam may be allowed to raise waterfowl again but under strict surveillance when the ban on the birds, slapped last September, ends February 28.
Deputy Minister of Agriculture and Rural Development Bui Ba Bong said the ministry, in fact, planned a waterfowl breeding project for 2007 was awaiting suggestions from local agencies.

The project would stipulate tough conditions to prevent the spread of bird flu.

For instance, all ducklings had to be inoculated by the 14th day or face slaughter.

The government was also considering financial support for localities to carry out vaccinations and procure adequate supplies of vaccines.

In August last year the government lifted a ban on chicken farming but not waterfowl since the latter are more free-ranging.


Source: Thanhnien News