International Egg and Poultry Review
By the USDA's Agricultural Marketing Service - This is a weekly report looking at international developments concerning the poultry industry, this week looking at the latest Poultry Outlook.
Due to smaller chick placements, U.S. broiler production estimates for the fourth quarter of 2006 and the first quarter of 2007 were reduced. Due to the falling production, prices for most broiler products have strengthened. With 2007 expected to bring higher exports and slower production growth, per capita broiler consumption is expected to decline slightly. Export sales of U.S. broiler meat were up in November 2006 while shipments for the same period were down. Broiler exports totaled 548 million pounds for November 2006, and increase of 22 percent from a year ago. Broiler shipments were higher due to lower leg quarter prices along with a weaker U.S. dollar. Due to growing demands for U.S. broiler meat, export projections for fourth quarter 2006 were increased by 35 million pounds to 1.4 billion pounds.

Prices for whole turkeys in the U.S. have declined from their Thanksgiving highs and as of January 2007 were below the previous year's prices. Stocks of whole turkeys at the end of November 2006 were higher then a year earlier but remained at relatively low levels. Turkey exports for November 2006 were 48 million pounds, a decrease of 3.4 percent from a year ago. A decrease in shipments was due to an increase in the whole turkey price.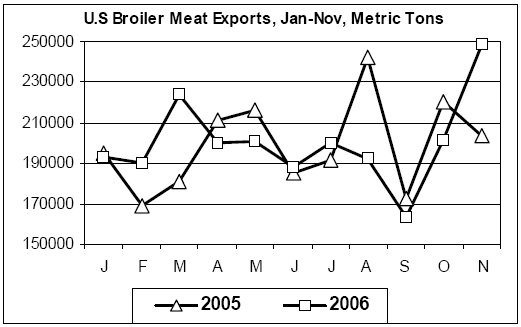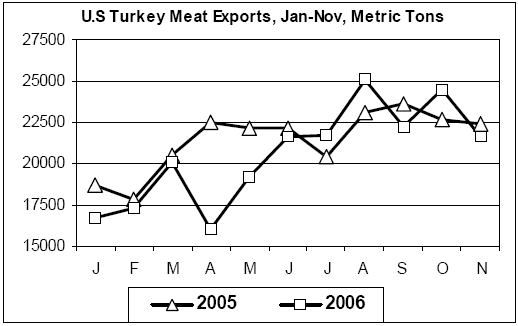 To view the full report, including tables, please click here


ThePoultrySite News Desk