Poultry ban enforced in Jakarta
JAKARTA - New rules have come into effect in the Indonesian capital, Jakarta, banning people from keeping domestic birds.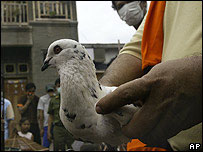 Keeping poultry in backyards is a way of life in Indonesia
The regulations are the latest attempt to stem the bird flu virus, which is endemic in the poultry population.

Five Indonesian citizens have died so far this year from the disease, and the government is under huge pressure to take tough action.

But enforcing this new policy could prove difficult, according to the BBC's Lucy Williamson in Jakarta.

Backyard poultry farming is a long-established tradition, as a way to supplement the family income, and before the culling began, hundreds of thousands of birds were estimated to be in the city.

City patrol

The new regulations were announced two weeks ago, but the ban has only now come into force.

Jakarta's governor, Sutiyoso, kicked off the enforcement with a patrol around the capital on Thursday, checking local homes and backyards for chickens, ducks and other domestic birds.

According to our correspondent, who was with him on the patrol, it was anything but a surprise inspection, with dozens of police and officials waiting in various locations for the governor's arrival.

The mayor of central Jakarta, Muhayat, said he was confident that the new policy was being adhered to by the local population.

"I can guarantee there are no backyard birds in central Jakarta," he told the Associated Press. "The people here are now fully aware of the disease and voluntarily culled their birds."

But our correspondent says some local people have described the new rules as too drastic.

There are reports that some residents are hiding their birds, and there is also concern that corrupt officials will be susceptible to bribes to keep quiet about remaining poultry stocks.


Source: BBC News