"Get Connected" with Fancom at VIV Asia
NETHERLANDS - On the 7th, 8th and 9th of March, Fancom will be exhibiting at the VIV Asia trade fair in Bangkok.
Their 45m2 stand is part of the Netherlands Council for Trade Promotion's Holland Pavilion.

VIV Asia traditionally attracts many regional exhibitors and visitors. The animal husbandry sector isn't just booming in Thailand. Vietnam, Malaysia, Indonesia, China and other countries in this part of the world are also becoming increasingly more professional - a trend where Dutch knowledge and expertise could be in high demand. Fancom is closely following developments.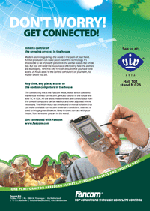 Fancom's theme at this event is "Get Connected". One of the highlights is the WebLinkBox, a simple and universal solution that enables users to create a reliable link between the process computers in the houses and a PC or PDA. For the pig sector, we will be introducing a new F17 climate controller for the PowerFlow concept and exhibiting our latest developments in liquid feeding and dry feeding concepts. The EasyBlend feed weighing concept with the new F42 computer and the familiar MTT-climate concept will be on display for the poultry sector.
Their participation at this trade event will also support the activities of our distributors in this region. Prior to the fair, we will be organising a distributor meeting for our sales & service centres in the Asia & Oceania region on the 6th of March.
Fancom will be inviting visitors to visit our stand via a folder insert in the Asian Poultry and Asian Porc trade publications.