Hybro Asia holds 3rd Counterparts' Seminar Series
NETHERLANDS - From March 5-6, 2007, twenty modern hatchery and production managers from poultry companies in Asia gathered and participated in the 3rd offering of the Counterparts' Seminar Series at Montien Hotel, Bangkok, Thailand, organised by broiler breeding company Hybro B.V.
The focus and theme for this year's programme was "Managing an invisible, living, meat-yielding chick" and attracted participants from the Philippines, Sri Lanka, Thailand, Indonesia, Pakistan, Bangladesh, Malaysia and India to participate in this interactive course on modern hatchery management.

The 2-day seminar/workshop mainly dealt with the growing importance of incubation in the performance of the bird, especially with the advent of high-yielding breeds. The first day involved a revisit of the embryology and physiology of a living organism inside the egg, principles of incubation and determining chick quality. During the second day, participants were offered more practical cases on the physics of incubation, hatchery ventilation, egg break-outs, etc. Moreover, new and future developments in the design of hatchery machines were also shared to provide them with a glimpse of what is yet to come for the industry. As with the first two offerings, social and informal events were also organised to learn more about their co-participants and the other team members in Asia (the so-called Hybro A-Team).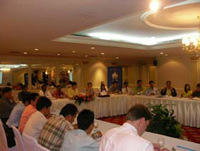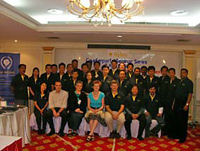 The course was facilitated by known hatchery and incubation specialists and practitioners who shared their know-how and expertise in this challenging and important stage of the production chain. Contributors to the development of materials and resources for the Counterparts Seminar included Dr. Ron Meijerhof (Hybro B.V., Senior Technical Specialist), Dr. Marleen Borjean (Pas Reform, Technical Specialist), Ir. Paul Degraeve (Petersime, Director Research), Ir. Roos Molenaar (HatchTech, Research & Development), and Dr. Solomon Benigno, Jr. (Hybro B.V., Technical Manager Asia).

Gauging from the feedbacks and evaluation of participants, Dr. Solomon Benigno, Jr., Technical Manager for Asia says of the event: "The seminar/workshop was again a success as the participants found the content and approach very informative and practically useful." Moreover, Hybro received excellent feedback for a well-organized and planned event that shared the most advanced thinking and the latest, practical approaches to managing modern hatchery operations.

"This type of openness and information-sharing has become something of a trademark for the way Hybro does business", concluded Vladimir Walk, Hybro's area manager for Asia, "and here in Asia, where we have seen that by sharing our extensive knowledge-base, we can help to underpin efficiency and profitability throughout the poultry meat chain, we will continue to use this format to make a contribution to the growth of the Asian poultry sector."