Newcastle disease Chaos In Romania
ROMANIA - Since the initial outbreak on the 16th of October 2006, in which a massive 54,834 birds were considered susceptible, Newcastle Disease has struck time and time again.
Counting from the beginning of 2007 there have already been a further six outbreaks. Although these most recent outbreaks have been confined to small villages, the disease in question has caused rampage all over Eastern Romania, practically travelling from the North tip to the South, threatening to spill across neighboring borders, especially those of Moldova.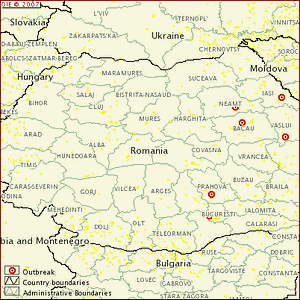 The disease continues to spread. Shifting towards the Moldovian border.
So far this years culls have been kept just below 61 in total, but the death rate of the disease soars over 120. The latest farm to be hit had ten infected birds. All ten died from the disease, begging the question if the local authorities have acted quickly enough.

With an apparent mortality rate of 65.4% in these areas, it is vital that the authorities eradicate this problem quickly. Recent control measures have applied in accordance to the Council Directive. Vaccinations have been permitted, the establishment has been disinfected and movement inside the country is being controlled. But there are still further measures to be applied. The authorities will now seek for the control of wildlife reservoirs, fearing migration in and out may result in further spread.