Silver anniversary for British Goose Producers
UK - Goose producers are planning to make 2007 a special year — celebrating the 25th anniversary of the formation of their own association.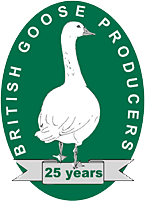 The silver anniversary logo unveiled at the meeting
During a period when goose production was dwindling away in the early 1980s an informal gathering of farmers at Crick, chaired by the late John Adlard, led to the setting up of the organisation which is now British Goose Producers, part of the British Poultry Council.

The group set about reviving the fortunes of the traditional British goose, and today the product is back in favour, winning accolades from prominent chefs, restaurateurs and food writers.

The anniversary logo was introduced to members at their spring meeting at Stoneleigh, Warwickshire. Members discussed a series of activities planned for the autumn starting with a commemorative Michaelmas lunch — traditionally the first geese of the season were eaten at Michaelmas (September 29 in most of the country).

"We'd like to make this a really memorable year not just to celebrate the success of the goose today but as a tribute to the foresight, enthusiasm and devotion of our founder John Adlard," says BGP chairman Judy Goodman. "Without his efforts the goose would certainly not be enjoying its wave of popularity today."

She said that after a good season in 2006 and with new members joining the organisation from around the country, there was a very positive attitude throughout the sector helped by the success of the marketing activities and the support of the BPC.