US poultry industry expected to decline
US - Weaning the United States from oil is creating quite a stir down on the farm.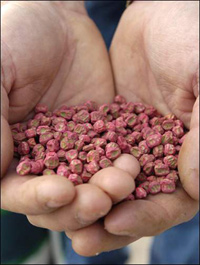 Jeff Dukes shows off a handful of peas to be planted in a field near Milton. Higher corn prices stemming from the demand for ethanol have driven up vegetable prices overall.
Ethanol, a supplement to gasoline now found in pumps across the country, has become a major consumer of corn, devouring 20 percent of the United States' production.

In Delaware and across the country, that boom is driving up demand for corn, doubling prices and hurting chicken farmers who use it for feed but helping vegetable farmers who are planting more of it in hopes of cashing in.

As a result of the rising prices, production by the U.S. poultry industry is expected to decline for the first time in 30 years, albeit only 1 percent. And Delaware's $844 million poultry industry is also expected to cut back on production.

"When you are having difficulty covering the cost, the only thing you can do is throttle back production," said Richard Lobb, spokesman for the National Chicken Council, which represents most poultry companies, including those in Delaware.

That is likely to result in higher prices for consumers, poultry companies and economists say. Prices at the wholesale level, which eventually trickle down to consumers, rose 27 percent from early 2006 to 2007.

But the biggest changes have been at farms.

Poultry growers who supply major chicken companies expect their income will drop as much as 20 percent this year as the companies they sell to cut production.

Source: Delawareonline