Aviagen Holds First Poultry Management School in China
US - Aviagen, the world's leading poultry breeding company, recently completed a week-long poultry management course in Beijing. The school brought participants from all across China together to learn the latest information in all areas of poultry science and its practical application to managing successful breeder and broiler operations.
During the course, held March 12-16 at the Jiuhua Resort & Convention Centre in Beijing, 45 attendees from nine different poultry companies across China came together to learn from Aviagen professionals and industry experts through a series of presentations and open discussions. On the first day, the participants heard the latest information on Aviagen genetics and product development from Craig Morton, Aviagen's global product director. On day two, Marc Baribault and Rod Konrad, both technical services managers for the Asia region, discussed brooding management and female breeder management, respectively. In addition, Dr. Steve Tullet, a poultry consultant, spoke on several issues regarding hatchery management.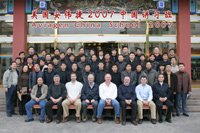 Aviagen China School 2007
On the third day of the school, Dr. Mike Czarick, extension engineer at the University of Georgia in Athens, Georgia, USA gave a comprehensive lecture on the fundamentals of proper ventilation. Day four included presentations by Dr. Nick Dorko, Aviagen's global head of veterinary technical services, on vaccination programs and by Marcus Kenny, Aviagen's global head of nutritional services on breeder and broiler nutrition. On the final day of the school, Mickey Aglio, an Aviagen technical services manager in Asia, discussed issues relating to male management. The half day ended with a time for open discussion and questions. All lectures, presentations and discussions were translated into Chinese by Han Feng, Aviagen assistant VP in China who, along with the Aviagen team in China, also coordinated the local site preparation and set-up of the entire event.
"The market in China is large and dynamic," said Bill Souther, Aviagen VP in Asia. "It became clear to us, and to our customers, that as our presence in this market grew, there would be a need for us to provide educational opportunities in proper poultry management practices."
The Aviagen China School was patterned after the hugely successful Arbor Acres Production Management Course held annually for the past 44 years in the USA. While the Arbor Acres course is a month-long event bringing people for all over the world together for intensive training, the Aviagen China School was designed to meet the more regional needs of those working in the poultry industry in China.