Aviagen Hosts WVPA'S Belgian Branch
SCOTLAND - The Belgian branch of the World Veterinary Poultry Association was in Scotland last month for their annual convention.
Aviagen's Ross product range commands a significant part of the Belgian market. The vets sought an opportunity to visit the company whilst in Scotland and Aviagen was happy to respond to their request.

Members of the Association were hosted by Bill Stanley, European Veterinary Health Director and accompanied by members of his team. They enjoyed a traditional Scottish dinner in Edinburgh's old town.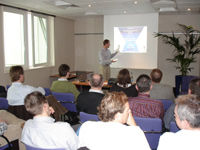 The vets were addressed by Bill Stanley, Steven Stenhouse, International Marketing Manager, and Alfons Koerhuis, Head of Research and Development: Steven provided an introduction to Aviagen and its global activities and Alfons updated the Association on Aviagen's breeding programmes and genetic initiatives.

Bill discussed the importance of biosecurity and looked at the differences between the provision of veterinary services in the US and Europe. Each presentation was followed by a lively question and answer session.

The visit was an enjoyable experience for both Aviagen personnel and the representatives of the Belgian WVPA and re-inforced Aviagen's commitment to supporting all sectors of the poultry industry.