FDA: Farm Animals Under Quarantine
US - Food and Drug Administration officials reported Tuesday that thousands of hogs were fed with the industrial chemical contaminated pet food in as many as six states. Also, it appears that a pultry farm in Missouri was also contaminated.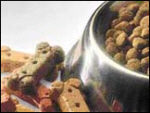 It is unclear whether the hogs and poultry have entered the food supply for human. "At this point, I don't have a definitive answer other than to say that the issue is being addressed," Stephen Sundlof, the FDA's chief veterinarian, told reporters when asked if any of the hogs had entered the food supply.

The urine for hogs in North Carolina tested positive for melamine, an industrial compound used for making plastic, glues and fertilizers that contaminated rice supplies imported from China. Hogs in Utah, New York and Ohio may have been exposed to the food, but the urine tests were not yet completed.

"This is a proactive step," said David Acheson, chief medical officer of the FDA Center for Food Safety and Applied Nutrition. "We will test a variety of foods and feeds, because we need to know all there is to know."

FDA is investigating a theory according to which the Chinese exporters have artificially increased the nitrogen content by adding chemical compounds such as melamine and other compounds to inferior protein products. FDA is also testing the Chinese imported food supplies for cyanuric acid, a chemical used as a pool cleaner that is high in nitrogen.
Source: Playfuls