New Cobb Trophy Rewards Polish Success
POLAND - The new trophy awarded by Cobb Germany for the best breeder flock in Poland has been won by Janra, one of the country's leading broiler chick suppliers.
The flock of 20,000 Cobb 500 parent stock on the farm at Margonin reached almost 140 chicks/hen housed to 60 weeks.

"With our sales in Poland increasing this year by over 50 per cent, we are delighted to honour the company Janra which is achieving excellent parent stock results," says James Truscott, director of Cobb Germany.

He spoke of the close contact between Ireneusz Rosada, technical services manager for Poland, and Pawel Budny, Janra's production manager, using e-mail and computer recording programmes to exchange information.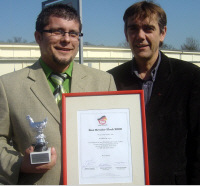 Janra's trophy certificate.
"Keeping up with genetics by visiting the birds and ensuring all details are considered is the key to the good results from this well respected customer which supplies national and international markets with day-old broiler chicks," says Mr Truscott.

Aldona van Krevel, who is responsible for sales in Poland, attributes the growing success of Cobb in the country to good breeder results and to the way customers are now managing and feeding the broilers in the right way to minimise production costs and achieve exceptional results. The demand for Cobb broilers is resulting in more breeders being placed.

Breeders are reared on spin feeders in a whole house with no pen divisions, creating a high uniformity.

"Attention to detail in the rearing house is paramount to provide a solid base for the challenges of production," says Mr Truscott. "In the production period all the work is carried out on a fixed time schedule - it all runs like clockwork. Every detail is taken care of, the birds are watched closely and the person responsible reacts to what the birds require."

While the older houses still use manual collection of eggs, like the one accommodating the award-winning flock, the new houses being built are fitted with automatic nests.