Scots Poultry Farmers Urged To Be On Guard
SCOTLAND - Donnie Macleod fears restrictions could affect his organic products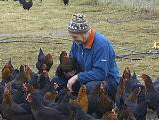 Poultry farmers fear the bird flu outbreak in Suffolk could threaten Scotland's organic and free-range industry.
They are concerned that their livelihoods could be ruined if even tighter controls to contain the deadly disease force them to keep their poultry indoors.

Donnie MacLeod has more than 500 organic chickens on his farm at Ardersier in Inverness-shire. He says many consumers have been showing a clear preference for free-range eggs and organic chicken.

But Mr MacLeod fears he may not be able to class his produce as 'free-range and organic' if tougher controls are brought in to keep out the H5N1 virus.

He said: "I think it's a very worrying time for the free-range industry because having to take birds inside means we are actually contradicting what we actually stand for. The public have a choice and the public have shown that they want eggs from chicken that are running around outside."

Restrictions have been in place on the Bernard Matthews farm in Suffolk since Thursday. Nearly 160,000 turkeys have now been culled as efforts continue to identify the source of the Nearly 160,000 turkeys have now been culled outbreak. Experts say while the risk of an outbreak in birds north of the border is low, it is a real possibility.
Source: stvtv