Aviagen Announce UK flock awards
SCOTLAND - Aviagen, the world's leading poultry breeding company, held the annual UK Flock awards and conference at the Westerwood Hotel, near Glasgow on 25th April.
The Flock Awards reward the best farm managers for their stockmanship and the whole event enables Aviagen to thank all customers for their help in collecting and sharing information about how the products perform in the field. All customers receive a detailed feedback report, benchmarking their performance against other UK producers.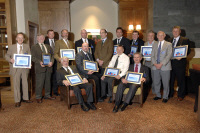 The half-day programme began with a conference, followed by the Awards ceremony and then a celebratory dinner.
The conference was led by key members of the Aviagen UK team. Lindsay Broadbent and Ian Dowsland summarised the performance of the parent stock and broiler flocks, whilst Dave Watts outlined the updated performance objectives for Ross parent stock flocks which will be published soon Dinah Nicholson updated the group on progress with an Aviagen project investigating the relative impacts of health, feed and management on parent stock hatchability.

2006 saw Aviagen's UK customers achieve outstanding broiler performance from the Ross product range. It was a difficult year for parent stock performance, but the best performing flocks continue to report strong results. Given that 2006 has brought particular commercial challenges to the UK poultry industry, not helped by the threat of Avian Influenza and subsequent pressures on the supply chain, this performance is all the more remarkable.

Following last year's successful format, the Awards acknowledged the best flock within each customer company group, as well as a 'Top UK Flock' Award – for both breeders and broilers. Again, the valuable contribution of the rearing farm manager was recognised and awards to both breeder laying and rearing farm managers were made.

Ross products have continued to produce outstanding results with the Ross 308 the product of choice, beating competitors as an overall package for the integrator.

This year's Award winners were presented with crystal whisky tumblers and Aviagen's special brand malt from Glenturret Distillery.

Dinah Nicholson, European Technical Director, commented: "I would like to congratulate all our customers on the excellent results. It has been a challenging year for everyone and yet the results have continued to show ongoing progress. Our breeding programme delivers birds with superb genetic potential, but this potential can only be realised through strong farm management."