First San Francisco Retailer To Ban Eggs from Caged Birds
SAN FRANCISCO - In honor of May's National Egg Month, East Bay Animal Advocates today hailed Rainbow Grocery Cooperative as the first San Francisco-based retailer to announce its exclusive cage-free egg policy.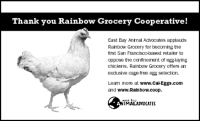 Since 1975, Rainbow Grocery, an independent, collectively run, worker owned and operated cooperative, has provided consumers with an affordable array of natural, organic food products. The celebrated grocery store (online at http://www.Rainbow.coop) joins a growing national network of cities, educational institutions, farmers, and retailers that oppose the intensive confinement of laying hens--a notoriously common egg industry practice.

"Rainbow Grocery's commitment to purchase only cage-free eggs sets a compassionate standard for local grocery retailers, such as Lunardi's Supermarket, to follow," says Christine Morrissey of East Bay Animal Advocates.
Each year over 19 million egg-laying hens are raised in concentrated confinement to produce eggs for California consumers. According to the California Poultry Workgroup, the vast majority of egg-layers in California are confined to tiny cages. Each bird is limited to less than 67 square inches of space for her entire life.
Source: IndyBay