New Study Shows Egg Breakfast Significantly Improves Diet Results
AUSTRALIA - Consuming two eggs a day significantly enhances weight loss efforts, according to the results of a new study released this week. The study shows that people who included eggs for breakfast as part of a kilojoule-controlled weight loss plan experienced a 65 percent greater reduction in weight and an 83 percent decrease in waist circumference, compared to a dieting group who ate bagels for breakfast.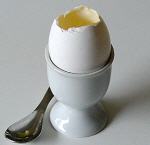 The randomised trial placed 152 overweight/obese men and women on a reduced-kilojoule diet for a period of eight weeks, comparing those who ate two eggs for breakfast with those who consumed a bagel breakfast equal in kilojoules and weight. The egg-diet group also reported improved energy levels.

Ms Sharon Natoli, Accredited Practising Dietitian and Founding Director of Food & Nutrition Australia says the results are remarkably positive, particularly for the many Australians who are trying to lose weight.

"While we know that protein-rich foods, such as eggs, help people feel fuller for longer, this study clearly shows that not only can eggs be included in a weight loss diet, a satisfying egg breakfast can significantly enhance the results obtained from weight loss efforts," said Ms Natoli.

In Australia, more than 7 million Australians are overweight or obese. The proportion of Australian men who are obese has almost doubled, and the proportion of obese women has increased from 8 percent to 20 percent over the past two decades.

"Even for those not on a diet, a breakfast containing protein-rich foods such as eggs tends to keeps people's hunger pangs at bay for a longer period of time than one high in carbohydrate. This means people are generally less likely to indulge in a high-kilojoule lunch and may eat less throughout the rest of the day," said Ms Natoli.

Despite the persistent myth, this study again supports previous research that shows the regular intake of eggs does not adversely influence blood cholesterol levels.

"It should be remembered that eggs play a vital role in the Australian diet and overall good nutrition," added Ms Natoli.