Soaring Prices Of Pork And Eggs
CHINA - Prices of pork and eggs kept soaring over past weeks on Chinese market due largely to tightened supply and increasing production cost.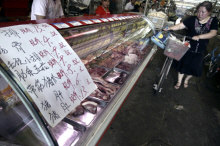 A consumer walks past a pork booth at a market in Nanjing, east China's Jiangsu province May 23, 2007. China is planning to set up a "meat reserve" if the domestic pork and poultry prices keep rising, media reported on Wednesday, days after pork hit a record high in parts of China.
Sources with the Ministry of Agriculture said on Wednesday that if the prices remain high, the country's consumer price index (CPI), a major indicator for inflation, will be affected. CPI reached the alarm level of three percent in April.

Food products account for 33 percent of CPI in China, and meat, poultry and related products, about 20 percent.

According to the Ministry of Agriculture, in April live pigs nationwide were priced 71.3 percent higher than a month earlier, and pork, 29.3 percent higher.

In Beijing, price of slaughered pigs went up more than 30 percent in recent days, while that of eggs rose to record high for past five years.

Wholesale price of pork in Shanghai has hit 16 yuan (2.1 U.S. dollars) per kilogram, a record high for recent 10 years, up 20 percent month-on-month.

Source: CHINAdaily