The Winners All Use Good Stuff!
Peter Hagland had a very successful season in 2006 and after hearing the result he got from his first competitive race of the season he looks set for a successful season in 2007.
Peter achieved a 1st and 3rd in the section and 6th and 11th in the open at the Fougeres National Race on Saturday 19th May 2007.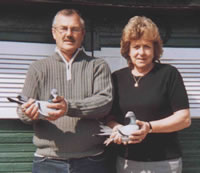 Peter & Cynthia Hagland

Cynthia Hagland holding Cynth's Pride who won Section 12th Open Tours. 749 birds competed at a distance of 427 miles in the Midland National Flying Club. Also 1st Sec 2nd Open Saintes 3144 birds competing at a distance of 530 miles in the National Flying Club.

Peter Hagland holding Peggy's Boy who was 1st sec, 2nd open Saintes, only bird on the day in sec K flying 530 miles in a head wind with 3887 birds competing. Peggy's boy is the sire to Cynth's pride and both are RPRA award winners.
Peter has many years of experience and believes if he had to start over again he would be back in the same position within at least three years. But, one thing is for certain he would definitely use Orego-Stim® Pigeon Liquid as even though he doesn't believe in magic tonics he swears by Orego-Stim® Pigeon Liquid, and has been using it since it first came on the market 3 years ago.

Peter says: "I swear by Orego-Stim to be honest. I'd seen it advertised so when I went for my corn one day about two or three years ago I took a smell of it and it really cleared my throat. So I thought I'd give it go and I've been using it ever since."