AIC Mosselprom Fuels Growth With European Technologies Agro-Industrial Complex (AIC)
MOSCOW - Mosselprom is poised for massive expansion, with plans to ramp-up poultry production by more than 42 per cent, to increase outputs from 35,000 to 50,000 tonnes of poultry meat per annum.
The vertically integrated closed joint stock company (CJSC) has identified a number of key Dutch and German suppliers – among them leading Dutch hatchery supplier Pas Reform Hatchery Technologies - to equip its expanding complex.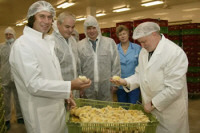 As one of the first projects to be commissioned under the national Development of Agribusiness framework programme – and a first for the Moscow region, Mosselprom's expansion will add a further 18 poultry houses at its Uzlovskaya site and a new slaughterhouse construction in the Ramensky (Mpscow) region.
"The new hatchery complex at Uzlovskaya will cater for the simultaneous rearing of 540,000 broilers," explains Mosselprom's general manager, Mr. Kamashev, "and by using the most technologically advanced equipment and processes to be found anywhere in Europe today, we are planning for an additional 21,750 tonnes of poultry meat through the integration per annum by 2008."
Mosselprom's operations span both the Domodedovsky region of Moscow and the Tula region, to the South, occupying land to the south and east of the River Volga.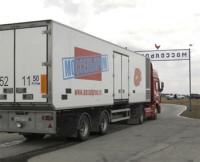 The integration currently includes broiler farms, with 126 houses fitted by VDL-Agrotech, a poultry processing plant (capacity 6,000 birds/hour) equipped by Stork of The Netherlands) and slaughterhouse operations that process 18,000 birds/hour. A feedmill and associated companies that cater for offal recovery, logistics and the sale of finished poultry meat products make up the remainder of AIC Mosselprom's portfolio of services.

Mosselprom's hatchery, among the largest in Russia today, was commissioned in 2004 through leading Dutch hatchery technology company Pas Reform – to capitalise on the company's globally acclaimed all in/all out hatchery management and processes. Recent modifications and developments will bring hatchery capacity on to 50 million hatching eggs each year.
The Russian integrator has secured both District and Federal funding of 840 million rubles (€24 million) through Rosselkhozbank, to support its plans.
With production and performance absolutely on target – the company's broilers are delivering a daily average (weight) gain of 55g and returning an index-ranking of 315-330 points (EPEF Index) against the European average of 270-290 – Mosselprom has, since operations began in 2002, established itself firmly as a leader not only in the domestic poultry sector, but also as one of the foremost broiler integrations in Europe.