Ban On Shocking Farm Animals Hailed By Welfare Groups
IRELAND - Animals will no longer be given electric shocks to immobilise them and make them easier to handle.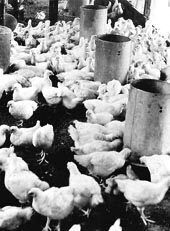 A new ban on electro-immobilisation of animals in Ireland has been hailed by welfare groups as a crucial step forward.

The practice involves running an electric current through an animal to freeze it into a stationary position in order to carry out dangerous procedures such as castration. Agriculture Minister Mary Coughlan announced the ban yesterday and it will come into effect in September.

It will prohibit the use of any electrical equipment that applies a sustained electric current or impulse to a live animal.

The procedure could not be justified on welfare grounds and caused serious levels of stress and aversive behaviour in sheep and cattle, according to a report by the agricultural department's scientific committee on animal health and welfare.
Source: Independant.IE