Broilers Proposes Power 'Wheeling' Plan
JAMAICA - A section of the Jamaica Broiler's plant in St. Catherine. The poultry producer is hoping to 'wheel' electricity toall its plants from the electricity it generates at Spring Village.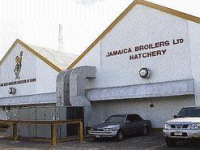 Electicity On Wheels
Jamaica Broilers Group is negotiating with the utility regulator and monopoly manager of the national power grid to 'wheel' electricity to its large plants in different locales from its co-generation plant at Spring Village, St Catherine.

The poultry producer would have to utilise Jamaica Public Service's (JPS) power lines to route the electricity to its White Marl and McCook's Pen plants, at a price.

But while that aspect of the arrangement seems easily determined on a commercial basis, the sticking point is likely to be the Office of Utilities Regulation (OUR), which is studying whether the proposal endangers JPS's exclusive distri-bution licence.

Director of consumer and public affairs at the OUR, David Geddes, told the Financial Gleaner that the agency was in favour of facilitating the Broilers plan, but would not subscribe to a company selling its self-generated electricity to a third party.
Source: Jamaica-Gleaner