Hubbrd LLC Names Eddy Slick As Sales Representative
US - Hubbard is very pleased to announce that Eddy Slick has been named the Hubbard LLC Sales Representative for the states of Nebraska, Minnesota, Indiana, Mississippi, Tennessee, and Kentucky.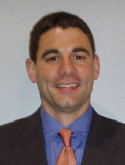 Eddy is a graduate of Southern Arkansas University with a degree in Agribusiness.

He has worked with Hubbard LLC over the last nine years in the production departments in Hot Springs, Arkansas and Pikeville, Tennessee. Eddy will be responsible for increasing the Hubbard market share in these states.