Licence Launch For Poultry Export
EU - Companies importing and exporting cooked and partially prepared poultry from Brazil and Thailand will be required to have licences from 1 July, otherwise they will have to pay full duty.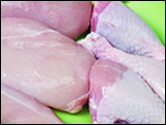 The new requirements with their complicated quotas have been very disruptive to trade in the past six months to a year, according to Liz Murphy, secretary general of the International Meat Trade Association.

"The rules have just been announced and some buyers of these products and their customers may be unaware that these are coming into force in July," she said.

The EU rules now have specific quotas relating to cooked chicken, salted chicken and seasoned turkey products, following negotiations with Brazil and Thailand. Details of specific quota arrangements have yet to be published.

Importers or exporters will have to show they have imported or exported 50t of poultry meat in each of the two 12 months preceding application for a licence.

Processors wishing to qualify for meeting these quotas will be required by the Rural Payments Agency to provide proof that, in two 12-month periods prior to the application, they have processed at least 1,000t of poultry meat, in order to obtain a licence for a importing a minimum of 100t up to a maximum of 10% of the quantity available for each quarter.

Both groups will also be required to obtain a certificate of origin from someone in the exporting country to show that the quantities involved are within required quotas.
Source: MeatInfo