'Not-Guilty' Ruling In Poultry Animal Cruelty Case
HARRISBURG - Farm leaders recently hailed a Lancaster County court finding that traditional egg production practices that have made Pennsylvania one of the top egg and poultry-producing states in the nation do not constitute "cruelty to animals."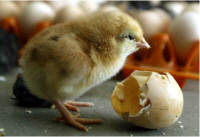 District Justice Jayne F. Duncan handed down the decision Friday afternoon (June 1), finding H. Glenn Esbenshade, CEO of Esbenshade Farms, and farm manager Jay Musser not guilty of 70 counts of animal cruelty.

The charges were filed by a Humane Society police officer who received a videotape from animal rights organization, Compassion Over Killing (COK). The videotape was said to have been made at the egg production facility by an employee of COK who was secretly assigned to investigate the farm. The Humane Society officer had never visited the farm before filing charges and had never been inside the facility.

"We hope that this decision sends a strong message about groups like Compassion Over Killing," said Walt Peechatka, executive vice-president of PennAg Industries Inc., a Harrisburg-based farm advocacy group. "Animal rights extremists target family-owned businesses like Esbenshade Farms simply because they are large operations. In reality, it is in the best interest of responsible farmers like Glenn Esbenshade to keep animals healthy, content and comfortable."

Chris Herr, assistant vice-president of the Pennsylvania Poultry Council, said the decision also highlights the need for a new look at Pennsylvania laws and regulations governing the role of private police officers and oversight of farming operations.
Source: AgProfessional