Successful Hubbard Night Organised By Paragon
BANGLADESH - On March 2nd 2007, a Poultry Party took place at "SPORTS ZONE", a family amusement center owned by Paragon Group, on the top floor of the Corporate Head Office of Paragon. It was organized by FARMHOUSE, a monthly Magazine under Paragon's publication.
This unprecedented event in Dhaka was hosted by Mr. Moshiur Rahman, Managing Director and Mrs. Yasmin Rahman, Director, of the Paragon Group. More than 300 guests attended the Hubbard night, organized on the occasion of the 5th International Poultry Show & seminar. It was mentioned to be "One of the best nights for poultry in Bangladesh". It was a colorful and lively night with local Bangladeshi folk dance and music and various other animations followed by mouth watering food at dinner. All the guests enjoyed greatly the evening.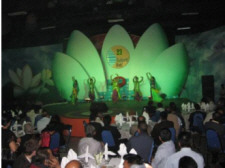 Many special guests attended this event: Mr. David Fyfe, Hubbard Asia Business Director; Prof. Dr. R. Akbay, President WPSA; Dr. Piet Simons, General Secretary WPSA; Mr. A. H. Ekbal Hossain, Managing Director BASIC Bank Ltd.; Mr. M. Fazlul Haque, Managing Director Bangladesh Krishi Bank Ltd.; Mr. Ali Reza Md. Iftekhar, Asst. Managing Director Eastern Bank Ltd.; Mr. Md. Mahbub-ur-Rahman, Corporate Banking Head HSBC; Mr. Syed S. Kaiser Kabir, Chairman Renata Agro Industries Ltd.; Dr. M. A. Saleque, Programme Head BRAC-BDP and Mr. Didarul Alam, Managing Director Paharika Farms Ltd.

Mr. David Fyfe took the opportunity to show his heartfelt thanks to Mr. and Mrs. Rahman and Paragon. This was followed by Mr. and Mrs. Rahman expressing their sincere gratitude and thanks to the poultry community and international guests. They further resolved their life long commitment for the development of Bangladesh poultry.