The Great Yorkshire Show
YORKSHIRE - A Taster for the Year of Food and Farming at the Great Yorkshire Show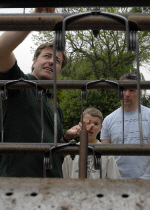 Farmers in Yorkshire will be given an insight into the Year of Food and Farming - which begins in September - at the region's premier agricultural event next month.

The Year of Food and Farming is a campaign to promote healthy living to young people by giving them direct experience of the countryside, farming and food. Plans include helping young people to follow the story "from field to fork" by letting them see life on a farm, experience what the countryside can offer and learn more about environmental issues linked to food.

The preview takes place at the Great Yorkshire Show in Harrogate on Wednesday 11 July when farmers will be invited to hear from the organisers as well as a farmer, teacher and student who have seen at first hand the benefits that links between schools and the countryside can bring.

The event has been organised by Framework for Change, the Yorkshire and Humber region's umbrella organisation promoting an entrepreneurial, dynamic and sustainable farming industry. Framework for Change is based at the Great Yorkshire Showground and is managed by the Yorkshire Agricultural Society and supported by the regional development agency, Yorkshire Forward.

Farmer Tony Cooke, who is also the Programme Director of the Year of Food and Farming, is a firm believer in the need for children to grow up knowing more about farming and its contribution to lifestyle and the economy.

He said: "Although the Year of Food and Farming does not officially begin until September, we felt it was important to help farmers to understand its objectives as soon as possible so this preview event will underline how Framework for Change sees the Year working on a regional basis."

Mr Cooke pointed to recent research carried out by Childwise on behalf of Farming and Countryside Education which revealed that the majority of 11-16-year-olds surveyed were knowledgeable about food and preferred their meat and vegetables to be British, with 72 per cent citing "freshness" as the main advantage. But the same research also showed that more than a quarter of children didn't visit the countryside and that there was concern, particularly among girls, about animal welfare.

He said: "There is no doubt that the level of knowledge about food in particular has improved but there is still a long way to go in ensuring that young people know how the food they eat is produced. The Year of Food and Farming will help to make strides in the right direction."

More information on the Year of Food and Farming is available on the website at www.yearoffoodandfarming.org.uk.