'Affix Expiry Date On Eggs Served With Noon Meal'
INDIA - The State Human Rights Commission (SHRC) has directed the State Government to affix the expiry date on the eggs supplied to school children under the free noon meal scheme.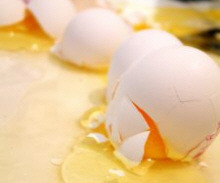 "The noon meal scheme of the Tamil Nadu Government has won acclaim from many quarters, including the United Nations. It is our duty to pay more attention on the health of growing children. Therefore, the government should consider affixing an expiry date stamp on each egg, apart from conventionally testing them," observed Justice S Thangaraj of the Commission, last week.

The Commission has passed this order after taking up a suo motu case, based on a report in a Tamil daily in this regard. The newspaper report stated that the students of two schools in Veppampoondi and Chockanathapuram in Salem district complained of vomiting and giddiness on July 27, 2006.

The report further stated that the rotten eggs supplied to the noon meal centres were the sole reason for the health complications of the students.

The Commission also took note of the report, filed after an investigation, which stated that the authorities concerned had taken immediate action and saved the lives of all the children.

Source: Newindpress.com