Chicken Lovers Run Afoul Of Zoning Rules
CHAPEL HILL -- Last spring marked Raleigh's first "Hen-side the Beltline Tour d'Coop," a sort of open house for chicken lovers. Adam Walters, the unofficial founder of the unofficial Carrboro Chicken Community, is planning a similar backyard poultry tour this summer in downtown Carrboro.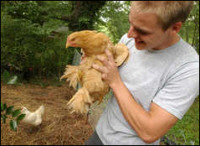 Adam Walters, 25, checks the wings of one of his young hens in his makeshift chicken pen at his home in Carrboro.
A graduate student in environmental science at UNC, Walters became an urban chicken farmer 18 months ago, and since then a handful of downtown neighbors have joined him and thousands of others across the country.

They are environmentalists who want to shrink their carbon footprints, rebels against the food industry who want to live more self-sufficiently, and parents who want to teach their children about responsibility -- and the reward of fresh eggs. And they're keeping in touch across chicken-wire fences and the World Wide Web.

"The backyard-chickens movement is definitely a growing trend, especially in the urban-suburban areas throughout the world," said Rob Ludlow, who runs backyardchickens.com, a Web site with 2.5 million page views a month and an online forum with more than 3,000 members, and about 18 more every day.

The movement is hatching all over the Triangle, especially in Carrboro and Raleigh, where laws are more chicken-friendly. In Chapel Hill, residents have petitioned the Town Council to relax the town's chicken rules.

In Carrboro, the chickens are getting along just fine -- most of the time.
Source: ChapelHillNews