DEFRA Shifts Its Scope To Salmonella Control
UK - Defra has today launched a consultation on the implementation of a National Control Programme for salmonella in poultry laying flocks.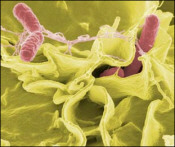 Salmonella
Salmonella is a common cause of food poisoning and can cause serious illness in humans. The aim of the programme is to reduce the levels of the two most important types of salmonella for human health, Salmonella Enteritidis (SE) and Salmonella Typhimurium (ST).

Current UK levels are among the lowest in Europe, with Salmonella Enteritidis or Salmonella Typhimurium present on 8% of holdings with laying flocks.

The UK has been set a target to reduce these two types of Salmonella by 10% each year for the next three years. The programme sets out how this will be achieved and includes mandatory sampling and testing requirements to demonstrate progress towards this target.

In 2009, additional measures will also come into force for premises where either type of salmonella has been found. Eggs from flocks confirmed to be infected will not be permitted to be sent for human consumption unless they have been heat-treated to guarantee the elimination of salmonella of human health significance.

The consultation launched today seeks views on how this National Control Programme should be implemented.

The UK's Chief Veterinary Officer, Debby Reynolds, said:

"Salmonella in flocks is already low in the UK and our National Control Programme will be a key step forward in achieving even greater reductions, with the support of the poultry industry which has already made excellent progress reducing salmonella through voluntary programmes."

The consultation documents can be viewed at www.defra.gov.uk/corporate/consult/ncp-layingflocks/
For more information on Salmonellosis, S. Enteritidis and S. Typhimurium infections,
click here
.