Egg Farmers Knocked From Their Roost
HAWAII - Whereas local egg farms once supplied most of the eggs consumed in Hawaii, they are now losing the market share to mainland suppliers.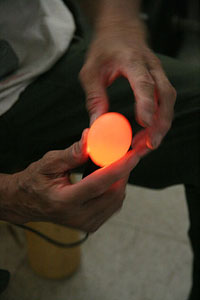 Greg Yee "candles" his eggs for disease and for fertilized eggs.
The high cost of shipping feed to Hawaii, in addition to stricter regulations and mainland competition, have pushed a lot of local egg farmers out of the business.

Only a handful of commercial egg farms -- four on Oahu and one on the Big Island -- continue to survive. Maui Fresh Eggs closed earlier this year in March due to the higher costs of safety grading as well as the cost of feed.

Most of the farms that remain, like the Mikilua Poultry Farm on the leeward side and Peterson's Upland Farm in Wahiawa, are family-run businesses that have been around for generations.

Some farmers, like Greg Yee of Blue Lotus farm, have found a niche by producing locally grown free-range eggs raised on the North Shore. But Yee produces too small a quantity to be counted by the state, and he, too, faces competition from the mainland.

Consumers must be willing to pay a higher price for local eggs, according to advocates, if the local farms are to survive. At the same time, they will be getting fresher eggs.
Source: Star Bulletin