Egg Within Egg A Freak Of Nature
NEW ZEALAND - Maria La Frenais got more than she bargained for when she broke an egg for breakfast.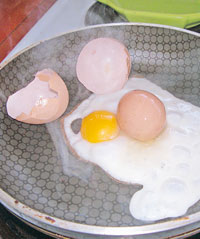 RARE PHENOMEON: A similar discovery was made in Australia three years ago.
The Glendene resident was about to start a morning fry-up when she made the unusual discovery - an egg inside an egg.

"I cracked it into the pan and out came a small yolk," she says.

"But to my amazement there was another fully formed egg in the shell.

"I then cracked open the inner egg which had a yolk the same size as the first," she says.

Ms La Frenais says the egg - described by experts as a freak of nature - was in a tray of supersized free range eggs.

"I am keeping the shells as mementoes," she says.

Bird expert and veterinarian Kevin Turner says Ms La Frenais? discovery is odd.

"I've never seen it before," he says.

An egg within an egg was found in New South Wales in 2004.

It was the first Sydney University poultry science professor Tom Scott had seen in his 30-year career.

Source: Stuff.co.nz