International Egg and Poultry Review
US - By the USDA's Agricultural Marketing Service - This is a weekly report looking at international developments concerning the poultry industry.
Global Poultry Meat Outlook
Prices
Poultry prices, after declining about 18% in the early part of 2006 mostly due to avian influenza concerns, have recovered over the course of the current year and by March had recovered to pre-AI levels. Export prices in the U.S. and Brazil, which together supply 70 percent of the global trade, had increased by 20 percent in the U.S. and 14 percent in Brazil by March 2007.

Demand
Demand in previously AI affected counties, including Egypt, Turkey, and Vietnam, also showed improvement despite more cases of AI showing up in Asia. Even though demand has improved one of the major factors in the price increases for poultry are the more expensive maize and soybean meal global prices.

Consumption
As consumption and prices continue to improve for poultry the global poultry output is expected to increase in 2007 by 2 million tons to about 86 million tons. The growth will mostly be concentrated in developing countries, which will account for almost 75 percent of the gain. Asian and South American markets are expected to increase their output by approximately 2.5 and 5.3 percent. These gains are supported by the increase in prices and both domestic and export demand.

Production
Poultry production in Egypt and Turkey, which were greatly affected by AI in 2006, is set for a rapid recovery in 2007 mostly due to domestic consumption. The increases are not expected to quite reach pre-AI levels. The continent of Africa is expected to show a 4 percent increase in poultry production but with AI prevalent in several of Africa's countries the increase may not be quite that much.

Trade
After dropping 3 percent during 2006 due to AI global shipments of poultry are estimated to expand by over 7 percent to a record 8.7 million tons. Poultry exports by the U.S. and Brazil are expected to increase around 3 million tons each. As global demand for poultry in many of the AI affected regions in Africa and the Middle East are resuming traditional importing patterns. Poultry import demand in 2007 has been even stronger than in the pre-AI era in developing countries. Most of the strength is coming from China, which is becoming the world's largest poultry meat importer, but large increases in Kuwait and Venezuela are also expected. In the developed countries imports by the EU are expected to increase by about 20 percent to about 1 million tons. The Russian Federation, the world's second largest poultry meat importer, is expected to increase imports by about 1 percent as domestic production within the country continues to increase. Japan, the third largest importer, is expected to have poultry imports decline by about 2 percent. The decline is due mostly to oversupply in its markets. Japan is expecting increases in imports of processed poultry products with the bulk of the products coming from China and Thailand.
Source: FAO/FAS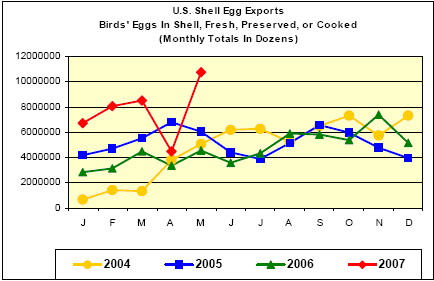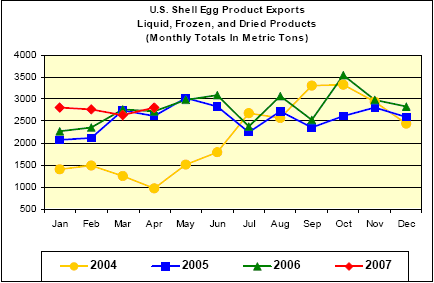 To view the full report, including tables, please click here