Jamaica Broilers to start ethanol production weekend
JAMAICA - Jamaica Broilers Group (JBG), a poultry producer with a minority interest in energy, is to ramp up its new ethanol plant this weekend, says President and Chief Executive Officer, Robert Levy.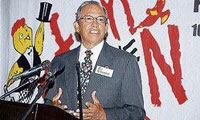 Robert Levy, president and CEO of Jamaica Broilers Group, says his company is committed to shipping its first supplies of ethanol at the end of July.
Levy also told the Financial Gleaner on Wednesday that he was in talks with big Brazilian ethanol producer Coimex on a possible deal, but said it was too early to release the details.

Broilers had originally projected an end-of-May timetable for completion of the multi-million dollar facility, but delays caused by the contractor Dedini Industrias de Base, the world's largest supplier of alcohol distillation plants, being unable to source material on a timely basis, resulted in an overrun.

The company's vice-president, Christopher Levy, who has been put in charge of the ethanol project, had blamed the delay on what he described as the tardiness of the contractor and instead projected a June completion deadline on the 60-million gallon plant.

"Our goal now is to actually start the plant by this weekend," the senior Levy said on Wednesday. "We are just commissioning all the pieces of equipment now."

Source: Jamaica Gleaner