LISKo Broiler sign-up to Smart
THE NETHERLANDS - Dutch hatchery technology company Pas Reform signed a new contract with LISKo Broiler, from Voronezh region, Russian Federation, for the supply of a turnkey hatchery with a capacity of 60 million eggs per year.
LISKo broiler - a newly founded subsidiary of JSC Liski-Fitting, better known for industrial metal fittings used in gas and oil pipelines - is expanding its portfolio into poultry production for the domestic market.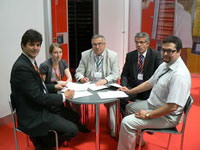 From L-R: Mr. Willem E. Schaafsma, General Director Pas Reform Russia, Mrs. Anna N. Kolygina, commercial Director Pas Reform Russia, Mr. Nikolai. V. Belokonev, General Director of Liski-Fitting, Mr. Michael Kampschoer, Sales Director Pas Reform Hatchery Technologies, Mr. Igor V. Zamyatin, Deputy General director of Liski-Fitting.
LISKo will develop a complete integration, with a production volume of 60,000 metric tonnes of poultry meat per annum. The Greenfield project includes a parent stock farm, hatchery, seven broiler sites, two feed mills, slaughtery and processing plant. The new integration will target production of 150,000 broilers per day, six days a week.

General Director Mr. Nikolai Belokonev says that it was not an easy task to select a supplier for the turnkey project. "Since we are new in this field, there were many discussions with different suppliers. But ultimately, we felt Pas Reform to be most competent and professional in meeting our needs and certainly they proved themselves most adept in answering any questions from our team."

Pas Reform looked not only at development for the new hatchery, but also at how best to integrate the hatchery into planning for the wholly integrated operation.

Mr. Belokonev continues: "Pas Reform has comprehensive experience in the Russian market, combining the best of technologies and practice from both east and west. And when we surveyed users of different brands of incubators in Russia, we found Pas Reform customers the most enthusiastic and compelling. Without exception, they were the most forthcoming about their hatcheries and were happy to talk to us openly about the results being achieved with Smart incubation systems, the feed they save in the farm as a result of homogenous temperature levels during incubation and the extra quantity and quality of uniform chicks they get from their hatchery."

Mr. Willem Schaafsma, who leads Pas Reform's Russian team, has been very impressed by the professional and commercial approach of the Lisko broiler team. "It is a pleasure to work with them. They are eager to learn and have invested in some very experienced poultry specialists, so that every link in the poultry production chain is clearly understood.

Mrs. Anna Kolygina, Pas Reform commercial director in Russia, has great expectations for LISKo Broiler, based on the drive and professionalism with which the negotiations and discussions have progressed to date. She concludes, "With their care and attention to planning and the calibre of their new team, we think LISKo broiler will rapidly become a leading player in the Russian poultry market."