Top Chef Stirs Senses At Exclusive Egg-Inspired Event
AUSTRALIA - The Australian Egg Corporation on Wednesday held an exclusive egg-inspired luncheon at the celebrated E'cco restaurant, with head chef Philip Johnson designing a special menu for members of Brisbane's food industry.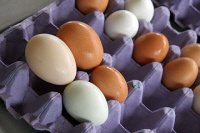 Held to inspire our 'foodie' community about the versatility of eggs as a gourmet ingredient - as well as provide some education around egg farming methods and the nutritional benefits of eggs - the event was attended by local industry figures including executive chefs, food media, nutritionists and egg farmers.

The Australian Egg Corporation worked with Philip Johnson to create the special egg-inspired menu, which included:

PEKING DUCK CONSOMME SHITAKE MUSHROOMS & CHINESE TEA EGG
(Taltarni 't series' cool climate sparkling nv, Victoria & Tasmanian vineyards)


EGG YOLK RAVIOLI WITH ASPARAGUS, TRUFFLE OIL & PARMESAN
(Old Kent river chardonnay '06, Frankland River)


SUGAR-CURED SALMON SOFT POACHED EGG, VODKA CHERVIL CREAM & SALMON PEARLS
(Tim Adams pinot gris '06, Clare valley)


WAGYU TARTARE, FRESH EGG YOLK GERKINS, SHALLOTS, DIJON MUSTARD & CAPERS
(Bests bin 1 shiraz '04, great Western)


BAKED COFFEE EGG CUSTARD, SPICED FIG SYRUP & HAZELNUT MERINGUE
(All saints estate classic tokay, Rutherglen)
To give creative foodies the opportunity to experiment with eggs at home, Philip has shared his delicious recipe for smoked salmon with a soft poached egg, vodka chervil cream & salmon pearls.