Are Stores Playing Chicken With Suppliers?
UK - Thigh by thigh, they fill the refrigerating cabinet, each emblazoned with the same bright yellow sticker. "Great Value", it announces. A whole fresh chicken for just £2? Few could argue. Certainly not Moira Buchan.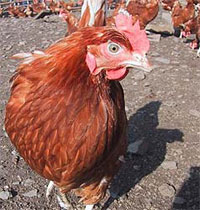 The average UK poultry farmer receives just 2p for a bird
It has gone 1pm on Sunday afternoon and in a matter of hours, she must feed her extended family. Her shopping list is already scored off. Three value chooks, she reasons, will more than suffice for a party of six. There are even cheaper options - a pack of three value chicken legs, for example, retails at just £1.25.

For Ms Buchan, these low prices are the appeal. Of secondary importance is the colour of the poultry beneath the cellophane. The meat has the complexion of an agoraphobic; it's hard to know whether to roast it or resuscitate it.

Ms Buchan, though, is more than satisfied. "It's good-quality meat, I get it all the time," she says, in a supermarket adjacent to Glasgow's Central Station. "It's probably not the top-of-the-range stuff, but it's a brilliant price."

The price may indeed be low, but the cost to smallholders is open to debate. Such offers of cut-price chicken - available for £2 in several leading stores - are just the latest example of supermarkets' precarious economic game, where the battle to win custom threatens to undermine an entire industry.

While the retail chains can afford to take a loss with the value lines, farmers' margins are proving increasingly tight. The most recent findings by the Centre for Rural Policy Research at Exeter University show that on average, a UK poultry farmer receives just two pence profit for a bird, once production costs are taken into account.

The problem is not isolated to chicken. Scotland's beef and lamb farmers, for instance, say the farmgate prices of red meat products must rise in line with consumer support for such lines if production is to have a sustainable future, while the low returns dairy farmers receive have been well documented in recent years. The National Farmers' Union believes that supermarkets' margin on fresh milk has increased from three pence a litre a decade ago to about 16p today.

Some major retailers appear to be trying to redress the balance. This spring, Tesco signed a deal with dairy farmers to ensure they receive 22p a litre, without passing on costs to customers.

Tesco's gesture, while followed in part by other firms such as the Co-op, is not the norm. In real terms, the sale of groceries in the UK has risen by 17 per cent in the past seven years, but food prices have actually fallen by 7 per cent. Put simply, we are buying more for less, and it is local farmers, suppliers, and specialist retailers who are feeling the effects. Over the same period, the number of stores operated by Britain's major quarter of grocery retailers has doubled, while 7,000 independent and convenience grocers have gone to the wall.

Last week, the Agricultural Industries Confederation warned that supermarkets have to realise their producers are facing huge increases in costs. The only solution, it pointed out, was an increase in prices in the aisles.

Source: Scotsman.com
To view our previous news item on this story, click here.