Aviagen Strengthen Nutrition Team
ASIA - Aviagen, the worlds leading poultry breeding company, recently named Dr Kim Huang as Nutrition Service Manager for Asia.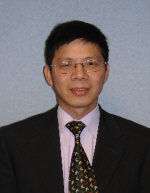 Dr Kim Huang
Dr Huang will be working with the Global Nutrition Team providing poultry nutrition guidance to Aviagen customers and distributors.

Dr Huang, who will be based in Australia, comes to Aviagen with extensive experience in the feed industry as nutritionist with Weston Animal Nutrition, Gold Coin Services and more recently as technical manager with Alltech Asia Pacific.

Kim received his PhD from the University of Queensland, Australia in 2005. His thesis was in digestible amino acid nutrition in broiler chickens.

"I am delighted to welcome Kim to the Aviagen team. He brings with him significant nutrition, feed milling and research experience which will be extremely valuable in this important role." said Marcus Kenny, Global Head of Nutrition Services for Aviagen.