International Egg And Poultry Review
US - By the USDA's Agricultural Marketing Service - This is a weekly report looking at international developments concerning the poultry industry.
Meat Prices in China
China's poultry production has recovered to normal production due to governmental subsidy policy for poultry production during avian influenza (AI) outbreaks in the last couple of years.

Poultry recovery is also because of strong demand generated by consumers shifting from pork to poultry due to swine blue ear disease (PRRS) and sharp rise of pork prices. The Ministry Of Agriculture indicated that poultry cultivation employs over 10 million people with an annual output of RMB40 billion ($5.2 billion). In 2006, China's total poultry meat production was 15.07 MMT ranking 2nd in the world, and total poultry egg production was 29.46 MMT ranking the first in 21 years running.

Meat prices in China have been rising slightly over the last six years and more dramatically over the last year, pushing the CPI upwards. These prices spikes have been brought on by the increased demand for meat of a more prosperous nation and constraints on livestock industry inputs, namely feed grains. Supply shocks have also exacerbated the situation. For some meat products, particularly poultry and pork, additional aggravating factors include domestic disease outbreaks resulting in large animal deaths and cull rates. High input costs and a degree of substitutability between meats have lead to increases in beef and mutton prices as well. Increases in these items however, has garnered less attention because they have traditionally been meats for wealthier Chinese who are less affected by the run-up in food costs.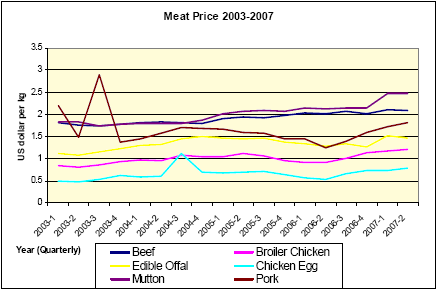 Food prices in China account for nearly one-third of the consumer price index, which rose to 3.4% in May with food prices rising 8.3%. Rising grain prices are also an important factor in this increase. Meat constitutes close to 7% of the CPI basket for China, and upwards price pressure has spread to eggs, fish and other products. It is possible that rising food costs, particularly rising pork costs, will push the year-on-year CPI inflation above 4% in the near future. The unofficial tolerance rate of the central bank for CPI inflation is 3%. Analysts believe the rising price of meat and eggs will exert further upward pressure on inflation in the coming months. Between March 2006 and 2007 retail chicken prices have increased by 33% which chicken egg prices have increased by over 40%.

China is being pressured by the United States and other trading partners to allow its currency to appreciate. In June 2007, the U.S. Treasury concluded that the Chinese yuan was undervalued and that the Chinese central bank's intervention in the foreign exchange market contributes to China's persistent trade surpluses and rapid accumulation of foreign exchange reserves. In response to pressure from trade partners, China's monetary authorities have allowed the value of the yuan to rise gradually since July 2005. However, Chinese policymakers are concerned that a sharp change in the exchange rate could result in economic dislocations and financial market instability, and they have adopted a go-slow approach to exchange rate policy reform. Many analysts believe a much larger appreciation is needed in order to narrow China's trade surplus.

Discussions about China's exchange rate are mainly focused on how appreciation of the yuan would affect merchandise trade and financial markets, but exchange rates have important effects on agricultural commodity markets as well. As the yuan appreciates against the dollar, U.S. commodities will become more price-competitive in China, potentially increasing China's demand for agricultural imports.

China-U.S. comparison of retail food prices, $/KG July 2006

Comparison of prices received by Chinese
and U.S. farmers, 2005

Sources: USDA/FAS Global Agriculture Information Network, USDA/ERS China Currency Appreciation Could Boost U.S. Agricultural Exports
U.S. Frozen Chicken Exports to China in metric tons

Source: Department of Commerce, U.S. Census Bureau, Foreign Trade Statistics
To view the full report, including tables, please click here