More Del. Farmers Putting Their eggs In Organic Basket
US - A hen with a crooked beak and one good eye roams Carolyn Donald's front yard in Georgetown, foraging for stray bugs, grass and grain.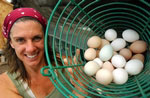 Carolyn Donald of Georgetown has 450 egg-laying birds and is one of just six farmers in Delaware to be certified organic by the federal government. More egg and chicken producers are looking to the organic market to increase profits.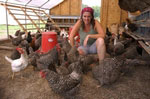 Carolyn Donald makes about $15,000 to $20,000 from her 450-chicken Georgetown farm. "We are just following our dreams," she said.
Donald, an artist turned organic farmer, has set aside her front yard as a respite for stressed hens such as 8-month-old Giggles, who got pecked too often by other hens. A few other hens who are molting hang out in the yard regaining strength before resuming egg production.

The farm, about 10 acres of a 40-acre family-owned farm, is in the heart of Sussex County -- the county with the largest number of chickens produced in the country. But unlike nearly all of Delaware's $844 million commercial poultry industry, Donald's 450 egg-laying birds are raised with strict adherence to federal organic guidelines.

Donald's is one of six certified organic farms in the state. About 24 farms in Delaware sell organic products but are either too small or haven't seen a need to obtain certification. While most organic farms specialize in fresh fruits and vegetables, a growing number of farmers, including some in Delaware, have broadened their offerings to include organic meats and dairy products such as chicken and eggs.

Eggs and poultry are now among the fastest growing food products in the U.S. organic industry, according to the U.S. Department of Agriculture. Organic eggs are widely available in supermarkets, and organic chicken, which accounts for two-thirds of organic meat produced, now appears on the shelves of large retail stores including Costco and Wal-Mart. In Delaware, consumers searching for local poultry and eggs go to two local farms, natural food stores or farmers' markets.

"I sell out every single week regardless of how much I have," said Donald, who sells a dozen eggs for $5 and a whole, unprocessed bird for $10.

Organic poultry meat sales nationally jumped 30 percent to $209.3 million in 2006 from $161 million a year earlier. Organic egg sales rose 18 percent last year to $190 million, from $161 million in 2005.

While organic chicken and eggs remain a tiny segment of the overall industry, sales are projected to increase exponentially. Nationally, poultry sales have quadrupled since 2003, and experts predict an annual growth rate of 23 percent to 38 percent by the end of the decade, with annual sales of $600 million by 2010.
Source: Delawareonline