More Than 23,500 Join Fight For Truthful Labeling
US - More than 23,500 members have joined the Truthful Labeling Coalition (TLC) in hopes of drawing attention to the mislabeling of pumped-up chicken.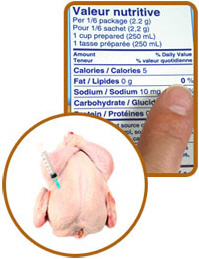 These 23,500 constituents have been spreading the word to family, friends and coworkers that they will not stand for the mislabeling of their fresh chicken products. Currently, members are engaged in a growing initiative – each individual is being asked to recruit at least two new members in hopes of tripling the coalition's size.

By urging immediate reform of the U.S. Department of Agriculture's poultry labeling rules, members are hoping for a change that will prohibit fresh chicken that is pumped-up or injected with a solution of sodium, water, binding agents like carageenan (a seaweed extract), and other additives, from being labeled as "natural".