NFU Seasonal Turkey Poult Survey 2007
UK - Christmas may seem like a lifetime away - but it's an important time for members to complete the NFU's seasonal poultry survey form.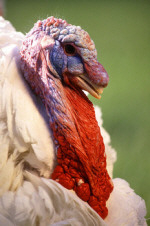 Information collated in the confidential questionnaire enables the NFU to build a picture of the 2007 turkey market, and can be used to feed into marketing meetings in the coming months.

Figures gathered will only be used in an aggregated form to help NFU advisers to present on-farm costings to industry members and the questions will only take a few minutes.

The summary report is available free of charge to members of the NFU. If you would like a copy of the summary report posted to you, please indicate this on the back of the poult survey form, or an additional page if faxing, along with your name, address and membership number.

If your circumstances have changed and this survey is no longer applicable to your business, please can you let Poultry Adviser Sam Hawkes know ([email protected]) so the database can be updated.