NGO, Prison Launch Poultry Project For Inmates
GUYANA - Food for the Poor (Guyana) Inc and the Guyana Prison Service recently launched the Prison Poultry Project which aims to equip inmates with a skill while maintaining the dietary needs of the prison.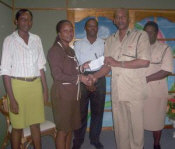 Food for the Poor Finance Manager Melissa Rae (second from left) hands over a cheque to Director of Prisons Dale Erskine
In a press release the non-governmental organisation said it is funding the project which will entail inmates at the New Amsterdam Prison rearing 3,000 broilers.
A cheque was handed over to Director of Prisons Dale Erskine for the construction of a 100 ft x 30ft coop, at a simple ceremony hosted last Thursday at the group's Festival City location.

Inmates will be trained in poultry rearing and business management and they will receive financial incentives every month.
Source: StabroekNews