Ozone Spray Kills E.Coli In Processing Plants
US - New high pressure ozone spray systems have been developed to remove E. coli from fresh produce, meat and poultry plants, their manufacturer claims.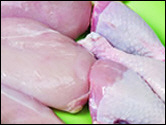 Produce Safety & Security International said its Spherequat 1000, 5500 and 6400 units are proven in tests to help food processors reduce the causes of a number of food borne illnesses, including E.coli OH157:H7, Salmonella and Staphylococcus.

Processors are constantly looking for innovative ways to keep operational facilities and equipment clean and free from contamination, which can in turn, spoil foods and lead to costly recalls and loss of brand confidence.

With concerns over the use of chemicals such as chlorine, ozone is seen among manufacturers as a safer cleaning chemical. On June 23, 2001, the US Food and Drug Administration (FDA) granted ozone generally recognized as safe (GRAS) status for use in food-contact applications.

Because ozone is an unstable, highly reactive form of oxygen, it is 51 times as powerful as chlorine, the oxidiser most commonly used by most food processors, and 3,000 times as fast at killing bacteria and other microbes.

Ozone use, which is accepted by the National Organic Program (NOP), also offers reduced energy costs for surface cleaning by eliminating the need for hot water during the process.

Clarence Karney, chief executive officer of Produce Safety & Security International, said the company believes the products could dramatically impact food shipping and processing industries.

"Ozone Safe Food high pressure unit will provide a high sense of safety and security to the consumer, directly impacting the plants bottom line," he said.
Source: FoodProduction