Poultry Farming Must Be Re-Examined: WHO - Summary
SWITZERLAND - The nature of poultry farming needed to be re- examined the head of the World Health Organization, WHO, said Thursday. WHO Director-General Dr Margaret Chan said more and more diseases were emerging at the historically unprecedented rate of one per year, and more and more were spread from animals.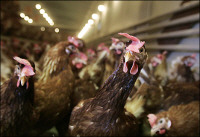 Dr Chan, who spoke at the launch of the World Health Report 2007 in Geneva, said scientific advances were the reason in identifying disease to an extent, but changes in farming methods gave cause for concern.

"The intensity of poultry farming is such that we really need to look at how the human animal interface is managed. It should not come as a surprise that we are seeing more and more disease outbreaks coming from the animal sector."

The majority of the 40 new pathogens identified since 1967 could be sourced to animals in this way including the deadly H5N1 strain of avian flu linked to farmed poultry and wild birds.

Dr Chan believed the world could mitigate the effects of a pandemic outbreak from avian flu. There have been 195 deaths from avian flu since 2003, the largest number in Indonesia, according to WHO statistics, but fears of a pandemic outbreak continue.

Dr Chan said compared to previous pandemics, nature had been generous in giving the world more time.

Source: EARTHtimes.org