Poultry Firms Agree To Manure Plan
US - Delaware's program to move waste poultry manure from small or nutrient-rich farms to areas that need additional fertilizers has been so successful that Wednesday state agriculture and environmental officials announced a new plan to pay for it.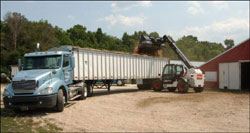 A worker using a small bucket loader clears litter from a chicken house at Debbie and William Moffett's Old Salem Acres farm near Harrington -- a symbolic site for the signing of the poultry waste relocation agreement.
Representatives from the state, three poultry companies and the Natural Resources Conservation Service signed an agreement that urges the poultry companies to come up with alternative uses for poultry manure. If they cannot find new options, they will contribute 50 percent of the total relocation costs of poultry litter moved from farms where their flocks are raised.

The program is likely to raise an additional $200,000 for the state's manure relocation program, with contributions of up to $100,000 each from Allen's Hatchery Inc. and Mountaire Farms of Delaware and Delmarva Inc., said William Rohrer Jr., program administrator for the Delaware Nutrient Management Commission.

Perdue Farms, Inc., the third company with growers on Delmarva, already runs a manure recycling plant near Seaford that handles about 30,000 tons of excess poultry manure from Delaware farms each year.

The plant handles another 30,000 tons from Maryland farms. Nearly half of excess poultry waste in Delaware -- about 42 percent -- goes there for processing and subsequent use as a pelletized fertilizer.
Source: Delawareonline