Research Reveals Chicken Campaign Success
UK - British Chicken Marketing's (BCM) annual MORI tracking research has revealed that an increasing number of consumers only want to eat British chicken and are now actively looking for the Red Tractor on pack - proving the campaign is having a positive impact.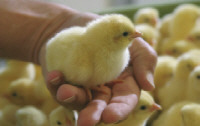 Campaign is going strong
More than two-thirds of consumers (68 per cent) say it's important that they only eat British chicken - up from 63 per cent last year and from 52 per cent in 2003 (the year before BCM launched its first marketing campaign).

The results are even more positive when BCM's female target audience is examined - 74 per cent of women say they only want to eat British chicken.

"People are becoming increasingly interested about the provenance of the food they eat - and this is especially true of meat, with many wanting the reassurance of knowing it was reared and produced to the high standards of our own British farms," says Charles Bourns, BCM Chairman.

Recognition of the Red Tractor on chicken packaging has also improved significantly since the start of BCM's campaign.

Adopted as BCM's logo from the first year of the campaign in 2004 and messaged strongly in all communications, the Red Tractor is now recognised by half (50 per cent) of all consumers when seen on chicken packaging.

Even more positive is the number of consumers actively looking for the Red Tractor when buying chicken. This has increased to 22 per cent - up from 20 per cent last year and 16 per cent in 2003. And again, this is higher for female-only consumers, with 25 per cent actively looking for the logo when buying chicken.

"The increasing trend for locally-sourced foods is proving really beneficial for British chicken and, since BCM started its campaign, we've seen production of British chicken increase from 15 million birds each week to 17 million," explains Charles.

"The commitment to support home-grown chicken is becoming increasingly visible in the major retailers, who are highlighting their British ranges ever more strongly. But it's not just retailers who are driving interest in British chicken - more and more restaurants and catering companies are realising the benefit of offering their customers a British-reared product."