The Man Who Made A Million From Diseased Chicken
UK - A businessman who sold unfit meat to hospitals, schools and supermarkets has been jailed for six years after spending four years on the run.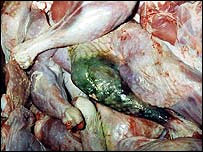 The chickens were not fit for human consumption
Peter Roberts, 72, known as "Maggot Pete", was convicted in 2003 of fraud but fled the country after the start of the 12-week trial.

A BBC Inside Out investigation tracked him to Northern Cyprus and presented evidence to local authorities.

Roberts was deported and appeared at Derby Crown Court on Wednesday.

He will now serve the six-year prison sentence that was imposed in 2003 for his role in leading a gang which made at least £1m selling diseased chicken carcasses.

The scam involved selling the contaminated meat from a plant in Denby, Derbyshire, to meat wholesalers.

It ended up in major supermarkets across the UK and was even sold to hospitals and schools, the court heard.

Roberts was convicted at Nottingham Crown Court in September 2003 of conspiracy to defraud and failing to surrender to custody.
Source: BBCnews