The Public To Participate In Poultry Vaccinations
VIETNAM - The Deputy Minister of Agriculture and Rural Development (MARD) Bui Ba Bong has affirmed that the ministry and the Veterinary Department are discussing a new poultry and animal vaccination program which will not be subsidized by the state. By 2008, all localities and people will have to participate in the vaccination.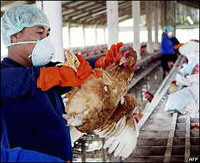 The deputy minister added that veterinary workers had had to find poultry to vaccinate as people often only rely on workers and do not take responsible for their poultry.

From now till the end of the year, the ministry will issue new regulations on vaccination, clarifying which cases the state will support vaccinations and which case localities and people must vaccinate poultry by themselves.

The regulation will also be applied for the vaccination of animals, which will need an increase in the involvement of the public to help with the vaccinations.

According to Head of the Veterinary Department Bui Quang Anh, many countries in the world have asked their local authorities to vaccinate their poultry as the state only reserve vaccines and implement the vaccination in places where the outbreaks occur.

The MARD is going to import another 200 million doses of vaccines for the 2007 second round of vaccinations.

The disease has been kept under control. However, Mr. Bong has also warned of a recurrence of the disease in winter. "The important thing is to prevent the outbreaks and keep prices stable," he said.